Is sex the price to pay for stardom in film?
By Henix Obuchunju
Female actors in the low income settlements are still faced with the challenge of having to accept sexual favors in exchange for opportunities in the film industry.
Rashid Mwango, a popular actor who has featured in various local TV programs, admits that some producers exploit vulnerable but talented young ladies with a false promise of greener pastures.
Rashid Mwango who has featured in jela five star and chini ya mnazi adds that upcoming actors often have to persevere various hardships before their breakthrough including working without pay.
He however, urges young talents not to be demoralized by their present circumstances
According to the kibra based actor who traces his roots in Kilifi, young people interested in the film industry must be committed and persevere, if they are to reap the benefits of their acting
"Young people especially actors and models with a talent should build a foundation by knowing what is expected of them before thinking of quitting for other alternatives" says Mwango.
Happy with the progress made so far, the actor who first made his debut in the acting industry in his pre-teens says that there has been a lot of positive change in the industry but there is still a lot to be done to protect young talent from unfair exploitation.
"Nowadays, we have lawyers who can help in signing of contracts which assures us of pay. And furthermore, the industry now has better pay" reveals Mwango.
Helping young people to create livelihoods through art has often been fronted as a solution to a country that is grappling with an extremely high unemployment rate
A recent study by the united nations development programme (UNDP) has ranked Kenya as having the highest unemployment rate in east Africa region. According to the study, one out of every five youth in Kenya is unemployed even as thousands of graduates flock the job market every year.
Nyamira KCSE Candidates Under Probe Over Chemistry Exam Leakage
Authorities in Nyamira County are investigating an incident where a KCSE Chemistry paper is alleged to have leaked to students at Nyamira secondary school.
The private center has eight students. Reports from the ministry of education have hinted that only one student, out of the eight is 'safe' as they were not directly/indirectly linked to the scheme.
One of the students is alleged to have received the exam questions through WhatsApp and later shared them with fellow students in class.
Authorities have since arrested the principal of Kiabiraa Secondary School, the exam supervisor, invigilators, and Chemistry teachers at the same school.
FGM: Elders Curse Did Him Nothing,19years Later
It was 2002, Maasai elders attacked and cursed Peter Lakanai after he thwarted their attempts to marry off a teenage girl to a man in Tanzania. However, 19 years later, the Endashiata Primary school teacher (Kajiado West) is still going strong, teaming up with other like-minded individuals to stop the vice.
According to Mr. Lakanai, elders from both ends had reached an agreement which would see the class seven girl (then) drop from school, undergo Female Genital Mutilation (FGM), and later join her rich to be husband in Tanzania.
"I took the lady to Kajiado Seventh Day Adventist (SDA) church where she completed her studies and got married at the right age," recalls teacher Lakanai, who was recently awarded by the county government of Kajiado for rescuing girls from early marriages and FGM.
Nonetheless, Lakanai is afraid that he may not be able to rescue more girls soon if more resources are not available.
"We only have one rescue center for girls in this area. It is hard to help as many girls as I would have imagined because Kajiado SDA rescue center is at times overwhelmed" he added.
In a community where men are the custodians of culture, it is seemingly hard to break certain barriers without involving them. A section of the men from the Maasai community is at the forefront to ensure FGM is a thing of the past. Last year, led by the middle-aged teacher, the group – comprising of close to twenty men – decided that they would join efforts in eradicating FGM in Kajiado County.
Data from UNICEF shows close to four million women in Kenya have undergone the cut depicting the sad state of affairs in 9 Kenyan counties, Kajiado being one of them.
With threats like excessive bleeding, urinary and menstrual problems together with increased risk of childbirth to women who have undergone female genital mutilation, men like Lomoyan Oletongoi have vowed never to allow his three girls experience what women in his community underwent back then.
Under normal circumstances in the Maasai culture, his eldest daughter who is now 9 years old would be a few years away to undergo the cut and off to marriage. That is not going to happen.
"FGM was a rite of passage to adulthood in our community. The father to the daughter was ready to receive bride price when his girl healed," alludes Lomoyan.
Article 53 of the Kenyan constitution states that every child has a right to be protected from harmful cultural practices like FGM. But with existing challenges in Torosei location in Kajiado west like poverty, it seems an uphill task to fully eradicate the harmful cultural practice.
The area assistant chief Paul Kariangei says that most of the men heavily depended on bride price after marring off their children (daughters) who had passed through FGM.
"There is high poverty in this area, it is high time stakeholders walked in to give alternatives like business opportunities to these men who have shown willingness to embrace the new normal," said Kariangei.
Moreover, some fears that neighboring Maasais from Tanzania, which borders Torosei four kilometers away, might still be embracing the culture leaves locals dejected.
This is likely to affect efforts in Kenya as some families are secretly letting go of their daughters to men on the other side of the border.
Assistant chief Kariangei however downplayed these claims arguing that the only business with their colleagues in Tanzania is the selling of livestock.
With Kenya joining the world in marking International Day of Zero Tolerance for Female Genital Mutilation today, the only hope for men like Kariangei, Lomoyan, and Lakanai is that more men would join them in fighting the culture which has coasted lives for ladies in their community.
These Documents Leaked by Blogger Itumbi are Likely to Cause More Drama at KEMSA
Today Kemsa wants to tell us there were no orders, due process was followed. Even Sanitization needs some Good Table Manners… Then you have started firing People who DID NOT EAT" Itumbi Lamented on twitter
Controversial blogger Dennis Itumbi has in a dossier revealed that Kenya Medical Supplies Agency (KEMSA) board chairman Kembi Gitutura asked CEO Jonah Manjari to award tenders to influential people in the government.
The firebrand blogger leaked two documents of an alleged communication that took place at KEMSA.
According to one of the letters leaked by Itumbi, chairman Kembi Gitura asked Manjari to award the tenders with no fear as the Ethics and the Anticorruption Commission (EACC) had no role in the awarding of the tenders.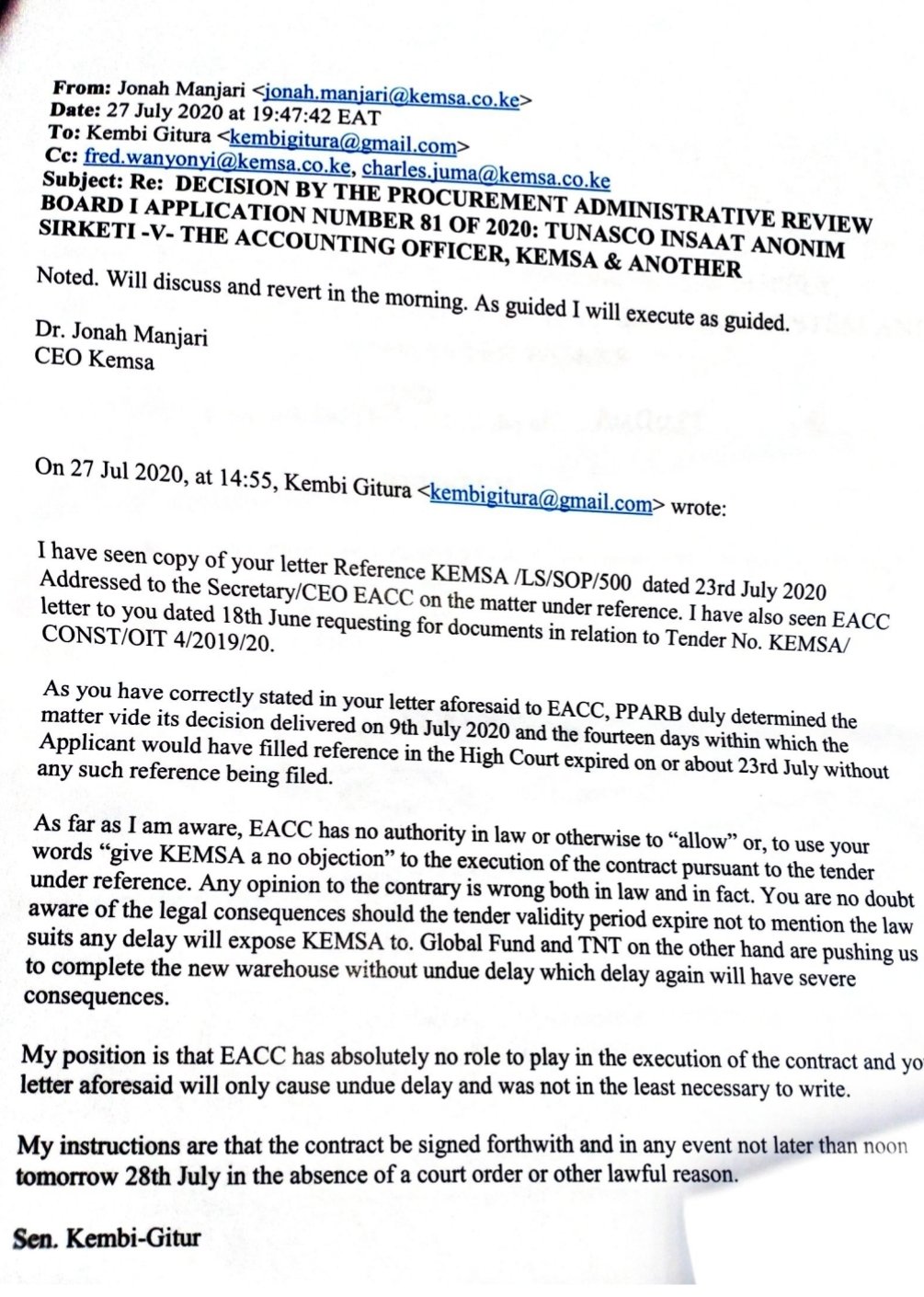 "Today Kemsa wants to tell us there were no orders, due process was followed. Even Sanitization needs some Good Table Manners… Then you have started firing People who DID NOT EAT" Itumbi Lamented on twitter
Understandably, EACC has commenced investigations into the alleged fraudulent awarding of tenders at the medical supply agency which was under its radar for a long time.
A second letter shared by deputy president William Ruto allied blogger revealed that a legal officer at KEMSA was shown the door on grounds that :
1.Failure to properly advise the management and board in regards to awards of contracts
2. Divulging information to unauthorized persons through leakage of the Authority's report, documents, and communications.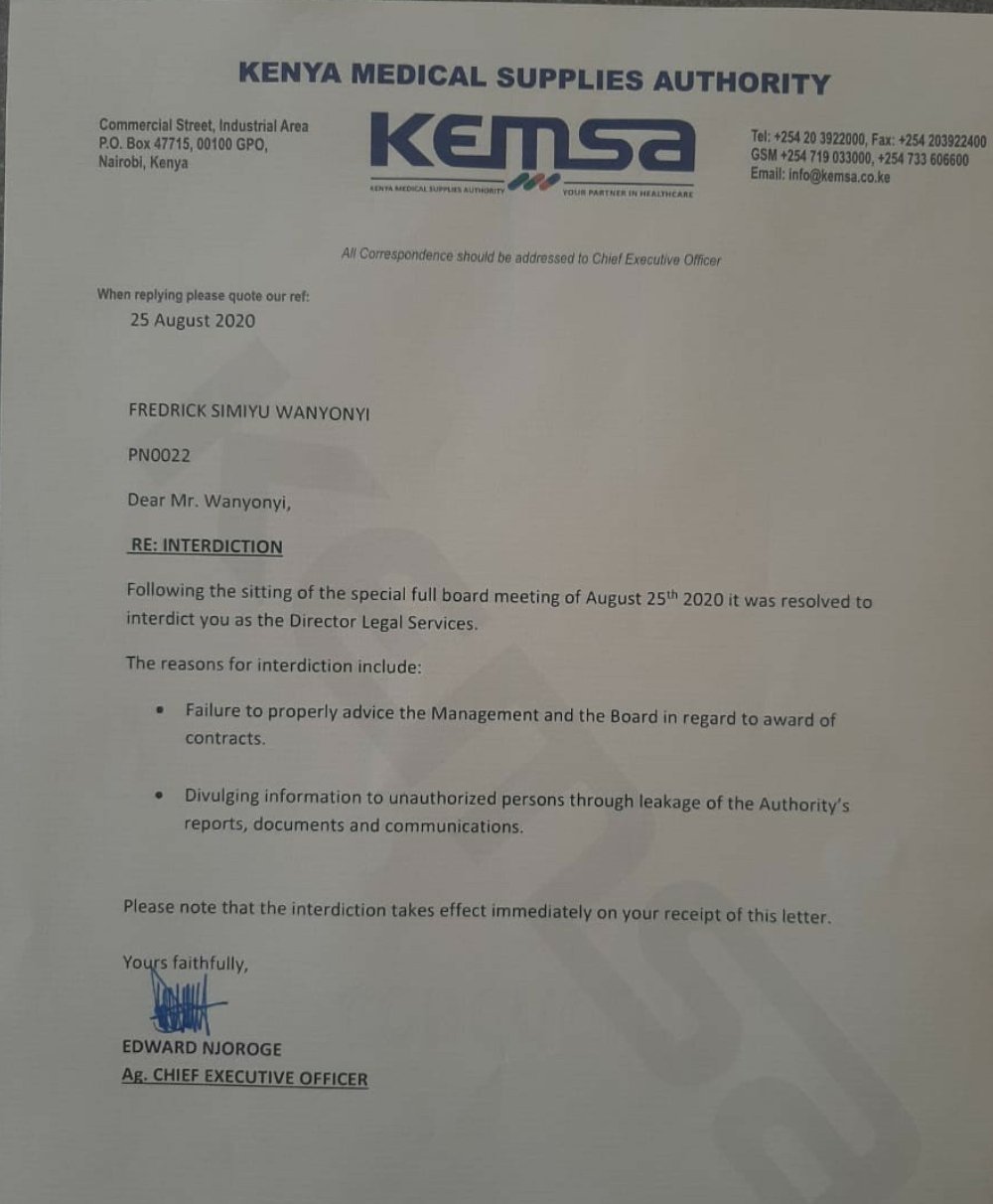 Appearing before the parliament health committee chaired by Murang'a Women representative Sabina Chege, KEMSA chairman Kembi Gitura on Thursday refuted claims that there were no orders to whom tenders should be given to.
KEMSA CEO Jonah Manjari had earlier told the senate's ad-hoc committee that he used to receive orders through texts and calls from health cabinet secretary Mutahi Kagwe and Permananent secretary Susan Mochache on who should receive tenders.